We will discuss Ready to Run Electric Boats for simplicity and the most common / practical way to jump in to the hobby of Radio Control Electric Boats. Ready to Run is typically known as RTR.
Best Electric RC Boat
Going to the local hobby store and picking out the best electric rc boat may be very easy for some. However, without much research you really do not fully know what the boat is capable of and more importantly it is very difficult to determine if the boat will match your goals. An impulse purchase is strongly discouraged. When looking to get the best electric RC boat, you typically would consider 3 main factors. These factors include:
1) Value
Let us be honest, cost effects everything in our lives. If something is too expensive for what it offers, the overall value may not be worth the cost. It is no different with the best electric RC boat. Cost is something that is typically very competitive in terms of you do get what you pay for and different manufactures price their products competitively. This commonly translates in to purchasing a RTR boat with less features in order to reduce the cost. This metric will be based on cost verse value of what you get. All Costs will be in USD. (United States Dollar Currency)
2) Reliability
Reliability is very important for anyone that is new to the hobby. When dealing with a high performance RC vehicle (we have to remember these are relatively small boats that are going faster then most full scale boats on a lake) problems will be pop up due to the nature of the hobby. However, as one of the largest advantages of electric power, maintenance is relatively low and a well maintained boat will be quite reliable. This metric will be based on how reliable the RC boat is in terms of following a proper maintenance schedule and how much on the water action you can get per battery charge.
3) Speed
Yes speed does matter. Most of us would agree that the faster the boat travels the more fun it is to operate. Although this may be true we must also consider run time. As speed increases, run time tends to decrease. Many of the RC vehicles described on this page have varying levels of top speeds. This metric will be based on how fast the RC boat travels in the units of kilometers per hour.
We will divide the boats in to 2 different categories. The first will be for boats in the size range of 15 inches to 24 inches and under. The second category will be for boats larger then 24 inches in length.
Each boat will have a review summary to provide you with a great overview of that specific boat. Ratings out of 10 will follow in each category, and in addition a separate overall rating for that hull.
24 inch Boat and under
Aquacraft Reef Racer 2 RTR – Best Electric RC Boat Lineup
The AquaCraft Reef Racer 2 is the first contender in the Best Electric RC Boat lineup. This boat has been around for many years but there is also many reasons for that. The hull is very well proven. The selling price point for this hull is $70USD. At this price point, it is an entry level hull with a brushed motor / brushed ESC and an included 6 cell 1100mAh NiMH battery pack with charger. This is important to the costas most RC RTR hulls do not include a battery pack at the entry level price point. In some cases multiple versions are offered for a boat where one version includes batteries and the other version does not include batteries.
In terms of reliability, this hull is excellent. This is one of the very few hulls out there that you can literally throw in to the lake like a football and it will turn over the correct way and take right off. This is a great demonstration of the hull being water tight when submerged.
The one drawback to the hull is the included NiMh battery. NiMh is a technology that is quickly getting old with LiPo's flooded across the market. The stock battery tends to lose its punch after a couple years with reduced battery capacity.
The brushed motor in this hull including the driveline is quite reliable for being a brushed setup. However being a 22km/h hull, it is quite tame and this most likely is the reason for parts lasting as long as they do. With enough run time hours the brushed motor will wear out requiring replacement, but believe me, you will have to put a serious amount of time on the motor that most people won't do so quickly.
| VALUE | RELIABILITY | SPEED | OVERALL |
| --- | --- | --- | --- |
| 7 | 9 | 4 | 7 |
Aquacraft GP-1 Mini – Best Electric RC Boat Lineup

The aquacraft GP-1 Ultra is very good looking Hydroplane hull that comes in at 18 inches in length. A hydroplane is designed around great looks and great speed on the water with excellent handling characteristics. The nice thing about the GP-1 is that is is LiPo Ready and features a powerful brushless power system. One thing to keep in mind is that the boat ready to run does not include a LiPo Battery or Charger. The price point of this Ready to Run hull is $130USD.
The hardware drive hardware included with the hull has been very well done. To transfer power to the propeller AquaCraft has placed a drive wire as the solution for this small hull. Hanging off the transom of this hull is a surface piercing prop along side a kickup water rudder. The water ruder feature is excellent if you happen to hit something in the lake you are running at. However one of the drawbacks of this feature is because of the boats small size. The boat tends to lose track when the hull hits something in the water at speed even though the rudder kicks up. So if you happen to hit something in the water, your rudder may still make it out alive, but your hull may very well be upside down and force you to turn over and use that rescue boat.
The reliability of all the components in the hull are of top notch, something that is typical from one of the best RC Boat manufactures. The one factor that reduces the Radio Control Info reliability rating of this RTR boat is partly due to the nature of a Hydro style hull. When the hull is placed on to the water and you first hit the throttle, the hull will appear to be "aerating" and not accelerating as fast as it should. If you didn't find this summary, this is something that you may be unhappy about, as this hull is designed to operate at a fairly high throttle setting. To get the hull on plane, full throttle should be used and then you may relax your throttle finger slightly. Don't relax it too much as it will fall off plane if you run the hull too slow. This is something that a new boater would not typically know and could mistake it for a problem with the hull but this is how they are.
If you like speeds in excess of 35km/h in a very small package this hull is for you. Just make sure you have very flat glass like water conditions with no water traffic to stir up the water in order to get the most out of this hull.
| VALUE | RELIABILITY | SPEED | OVERALL |
| --- | --- | --- | --- |
| 7 | 8 | 8 | 8 |
Over 24 inch hull length
Aquacraft UL-1 Superior – Best RC Boat Lineup
The AquaCraft UL-1 Superior is a Hydroplane style hull. This hull performs very well in terms of its handling characteristics. For this reason many fast electric boating clubs have created specific classes for this hull to compete in. Some fast electric clubs have actually made classes that use the power system that can be found in this hull. This is a demonstration of how reliable the power system is in this RTR boat.
The price point of this hull RTR is $330USD. The running hardware found on this boat is mostly comprised of anodized aluminum. The boat comes with a 40mm prop that offers excellent performance. Characteristics and allows the hull to get on plane within a reasonable amount of time and distance appealing to new boaters. The one downside of this hull is the rough water handling characteristics. The hull is only 27 inches long and at this size, rough water handling can be challenging. It is recommended to use the boat only in glass like water conditions.
You can expect speeds of up to 65km/h with this hull. To further improve the acceleration characteristics of this hull, one could simply install a metal aftermarket prop. An aftermarket metal prop will provide additional thrust to get you on step faster. The flexibility of allowing simple modifications can go very far and keep you having fun for many weekends at the family cottage and more! Once you get a hydroplane style hull you will then fully understand the handling benefit of these. You can turn literally like the boat is on a train rail wrapping a corner that's virtually only a few feet in radius.
| VALUE | RELIABILITY | SPEED | OVERALL |
| --- | --- | --- | --- |
| 9 | 8 | 8 | 8.5 |
AquaCraft Wildcat Catamaran
The AquaCraft Wildcat is one of the smaller and less powerful boats as compared to many in this category. It has made the list due to simply pricing and performance. The hull sells for $220 USD and comes Ready to Run with a 2.4GHz radio and Brushless power system. The overall length of the hull is 26-1/2″ inches and the hull is designed around running a 3s LiPo pack with a capacity of somewhere in the neighbourhood of 2500mAh plus. AquaCraft recommends 2000mAh or more, however I would suggest to bump this up to at least 2500mAh.
Drive hardware supporting the performance of this Ready to Run boat is not made from the same material as most other boats in this category. But that is very much expected as this hull is priced well for what it has to offer. The rudder for example is made from aluminum but many parts like the Strut mount is of plastic construction.
You may expect speed of approximately 50 km/h out of this hull. This would be very good for someone entering the hobby or getting one of your young ones a step up from a smaller slower hull. At this price point, the hull offers a large amount of performance and it's brushless setup only increases the overall value. Now if you are looking for a race handling hull, this one will definitely not be for you, but you should already expect this. One item to point out is that the Wildcat uses 1/8″ standard props. I would say that out of all things to consider, not using the typical standard of 3/16″ props will limit the prop selection. Not a deal breaker, but something to consider if you already have 3/16″ props to use.
| VALUE | RELIABILITY | SPEED | OVERALL |
| --- | --- | --- | --- |
| 8 | 7 | 5 | 6.5 |
Traxxas Spartan – Best Electric RC Boat Lineup
The Traxxas Spartan is  the largest boat that you will find on this page. It measures 36 inches in length. The raw size of this hull is one of the first appealing eye candy that you will take notice of. This hull stands out with its size and sleek design and hull size is not just for your eyes, at this length rougher water conditions are possible. Price point of this awesome looking hull is $460USD and wow you receive a ton of boat at this dollar mark.
The drive hardware on this hull is nicely matched to the sleek design. The strut, rudder, and rudder mount are made from aluminum and the turn fin and trim tabs are stainless steel. With all this well done metal hanging from the transom, it's a bit disappointing with the non-metal 42mm propeller. However this doesn't matter when you find out that the power system factory installed in to this hull is designed by Castle Creations. The reliability of this setup is very good especially if you run the boat on only 4s. The boat is setup to run either 4s LiPo or 6s LiPo. Either will work, however it is to be noted that power system temperatures after a run were  nearing the point where I would prefer not to exceed. This is 160F, but high quality motors such as the motor found in the Spartan, have shown to tread in these areas without signs of fatigue.
For many, a reliable run on 4s LiPo  would be more then enough fun for the life of the boat. But others would be itching to discover the speed potential of this hull on 6s LiPo power. On 4s LiPo, you can expect speeds around 60km/h and on 6s LiPo you can expect speeds of around 80km/h. If you don't mind pushing the envelope on this boat, you can impress everyone on the lake and if you would prefer to keep it reliable and more stable on the water running 4s, you will still impress everyone on the lake!
| VALUE | RELIABILITY | SPEED | OVERALL |
| --- | --- | --- | --- |
| 8 | 9 | 10 | 9 |
Impulse 31 – Best Electric RC Boat Lineup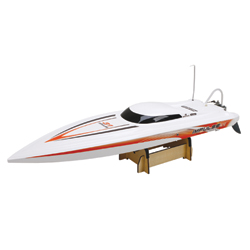 Proboat has a weapon under their sleeve. It's called the Impulse 31. This mono hull is a 31 inch long sporty looking rocket ship. The Traxxas Spartan is its direct competition. So what makes this hull better then the Traxxas Spartan? Only what your opinion says. This hull is powered by a brushless system that supports 4s up to 6s LiPo. This hull handles only very slight chop. You can find this hull for $400 USD.
The aluminum hardware mounted to the Impulse 31 is very well chosen. This  hardware lines are straight and sharp providing excellent handling characteristics for A Ready to Run boat. The included Spektrum radio provides the best in reliability which is placed high on my requires and well rewarded for Proboat. One item to note is the LiPo battery selection process. It has been noted that if you do not select an appropriate battery pack for this boat, it will give you problems. In fact it doesn't matter which hull you select, the proper battery goes a long way.
Bottom line for this hull is it is a great looking, well handling, fast moving mono. If you are looking for a well priced speedy booger, this is it. Now would I recommend this to someone that is new to boating? Absolutely! But there is a catch. Start out using a 4s LiPo pack and use the throttle trigger responsibly.  Once your ready for all out speed whether this is after practicing using the boat on 4s LiPo or as an intermediate boater being your first time with this boat, step it right up to 6s and hold on. Once you drop 6s LiPo in there you will not go back with 80km/h of wow. Seriously! This hobby will drain your energy, drain your fears and yep its true, drain your wallet. Welcome to the addiction.  Good luck choosing between this and the Traxxas Spartan. Or just get both, that's definitely what I would do. Is this the best electric RC boat for you? You decide.
| VALUE | RELIABILITY | SPEED | OVERALL |
| --- | --- | --- | --- |
| 9 | 9 | 10 | 9.25 |
Proboat's Shockwave 26 – Best Electric RC Boat Lineup
Proboat's Shockwave 26 is another great entry level boat for someone who want some good performance in a well setup mono hull. The Shockwave sells for $230 USD and is powered by a required 2 or 3 cell LiPo pack. A 3s Pack is more reasonable in terms of price making it that much better as an entry level boat. This boat has been popular since it has been out on the market.  At 26 inches in length, be sure to operate this hull in light chop to nearly glass like conditions. Smaller hull sizes do not fair well with waves and this hull is no different.
Mounted to the transom of this hull is your typical entry level metal setup including strut, rudder, trim tabs and turn fins. The hulls water pickup located in the rudder provides a good amount of flow to the ESC and motor, however if you plan to use higher capacity batteries then required, the flow rate may not keep up with the extended run time. Many people who own this hull are saying they hit a thermal cut off after longer runs and the hull is ok again for the next battery. A very small number of people are having problems getting there radio to arm with the brushless setup. It's important to read the instruction and be certain you know how to operate and configure your current radio system if you plan to use that with this hull.
It's recommended to use a 2s pack if you are completely new to RC boating or are letting your son/daughter try the wheel for the first time. A boat such as this one can achieve around 45km/h on a fresh 3 cell LiPo pack. This is a fair amount of speed that you will quickly respect when you run this hull for the first time. However, if you are looking for speed as an intermediate boater, this boat may not be for you. Something like the Traxxas Spartan or Impulse 31 may be a better option.
| VALUE | RELIABILITY | SPEED | OVERALL |
| --- | --- | --- | --- |
| 7 | 6 | 5 | 6 |
Radio Control Info First time buyer Tips – Best Electric RC Boat Lineup
1) Research – Hopefully that is why you are here. Read as much as you can from this site, every drop of knowledge will more enforce the confidence in your purchase
2) Hatch Tape – Our electric hulls are designed to be water tight. In some cases with RTR hulls, the hatch is secured without the need for hatch tape in the manual. However, Radio Control Info still believes you should use it as a precaution. Most components in a boat are not actually water proof. This may come as a surprise to you but is very true and often the truth for dead boat electronics. Seal up your hull, they should be completely water proof.
3) Take the time to evaluate your goals and decide on which feature of a boat is important to you. Consider your battery options as well. For example, I have Radio Control Cars and Airplanes that run off of large 4s packs. To maintain consistency I organize my entire fleet so that all RC's run off of a common 4s battery. If maintaining and caring for multiple packs is not a problem for you, then this does not apply.