The world of Radio Control – RC Electric Airplanes is a great hobby for all ages. To be able to build, control and watch these fun flying machines is quite an experience.
RC Electric Airplanes may not be the easiest hobby to get in to. There is quite a learning curve, however, it is well worth it and this section of the site will guide you through all the steps you should take in order to be successful. This includes recommending the sequence you should follow to be successful in learning how to fly, followed by some of the best Ready to Fly Trainer style airplanes to get you in the air and lastly the theoretical information you should need to build your own model.
Getting Started in RC Electric Airplanes:
If you are thinking or wanting to get involved in RC electric planes, there is as mentioned above a learning curve as with anything new. However, there is a few different tools and resources to make the learning curve much more approachable and successful. What is about to be described here is an approach that will ease you in to flying an RC electric airplane at a slow and comfortable rate.
Learning to Fly RC Electric Airplanes
Step One
The first step in learning how to fly, is to find a suitable RC flight simulator. It is highly recommended to follow this route for a number of reasons. The first reason is, it is a safe way to operate RC electric airplanes and you can do so right in the comfort of your living room. Weather does not need to be considered, and it is a lot easier to invest in spending more time learning as opportunities to do so are much greater. The recommended flight simulator is the Great Planes RealFlight 7.5 w/Tactic TTX610
.
When using a flight simulator, you want to comfortably be able to recover the airplane from any position. In order to achieve this you must be able to operate RC electric airplanes without having to think. What is meant by this is when the airplane is turned slightly due to lets say wind, you are able to bring the plane back in to position using muscle memory, When this is accomplished your reaction time will be at its quickest.
Although a flight simulator will never be as realistic or make a perfect transition from simulator to plane, the largest advantage to using a Flight simulator is the fact that the flight simulator essentially pays for itself within the first crash you make on it. Flying RC electric airplanes can be very difficult without the proper training. It is highly recommended to invest in a flight simulator as your first opportunity to fly a model and learn at the same time.



Step Two
Once you feel comfortable with the flight simulator it is a good time to visit your local flying club. Your local flying club will be very important in order for you to advance in to the next steps in your flight training.At this point you want to talk to one of the flight instructors at the club. The questions you will want to ask is what will be their approach on further flight training after feeling comfortable with the flight simulator. And in addition ask if any flight instruction will require you to have your own RC electric plane.
In most cases you will be required to have your own RC electric plane in order to be trained. This is where we  can briefly speak of one of the best RC electric airplane trainers at the most reasonable price.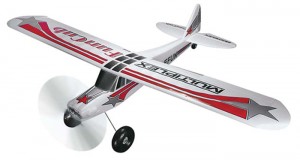 The Multiplex Fun Cub RR (Includes BL Motor, ESC, Servos)
 is a very good rc electric plane for learning how to fly. It has excellent slow and stable flying characteristic that is perfect for someone learning to fly. In case of a crash the Elapor foam that makes up the parts of the airplane can be glued back together fairly simple. This leaves an opportunity to repair the plane in case of a crash.
Now there are a few items that must be purchased in addition to the receiver ready version of this airplane. The items that you will need include a LiPo Battery, Battery Charger and Radio system. Visit the respective pages to learn more about these items.
Once you have your RC electric airplane you may start learning how to fly with the instruction and methods that your flight instructor has to offer.  Your flight instructor is responsible for keeping both you and your plane safe. Be sure to follow their direction.
Golden rule of Learning to Fly RC Electric Airplanes
The one tip to know for when you are learning to fly with an instructor concerns the height at which you will be flying at. The height that you should be flying your RC electric airplane should be about 2-3 mistakes high, This allows your instructor enough time to react in case you happen to lose the airplane. Now for some this will be uncomfortable as the plane will be quite high and if your plane is too small it may be more challenging to see. This is another reason for purchasing a plane like the above that is visible enough to see while flying at higher altitudes.
Visit the RC Electric Electric Airplanes pages to learn more about each component in RC Electric Airplanes. When learning more about each component you will have a better understanding should something go wrong.
Learn about all the different components of rc electric airplanes. Each component serves a specific purpose and must be properly selected to work well with other components within the system.
Check out the RTF and ARF pages to learn more about the common terms used in electric flight and a few more RC electric airplane suggestions.
Also, check out the RC Electric Airplanes Calculator to firm up those specifications or check what level of performance you are achieving with you current RC electric airplanes setup.