RTR (READY TO RUN) CARS AND TRUCKS
Ready to Run – Radio Control Cars and Trucks are one of the most popular RC models. For the most part, they are easier to operate, close to 100% assembled, and you can run them nearly anywhere including your backyard.
The pages made available in the RC car section of the site have been created to assist in all aspecs of purchasing, setting up, choosing a power system or engine, and running the model. Power Specific Vehicles will be covered on the specific tab located to the left. This includes Electric, Nitro and Gas.
Disadvatages/Advantages, maintenance, items needed, recommended items ect. will be covered on those pages.
What Power Source would be best to Start off With.
In general, electric tends to be the most user friendly and highly recommended for anyone entering the hobby. Gas Powered vehicles would be the next step up in terms of ease of operation. Nitro Powered models would be best suited for the more experienced. Nitro powered vehicles require a broad bit of knowledge in how they operate to be able to get successful runs. This does not mean one can not start in a different order. Often times many jump right in to the nitro experience. It would be best to start off with electric power if you are unsure or uncertain.
POPULAR CHASSIS TYPES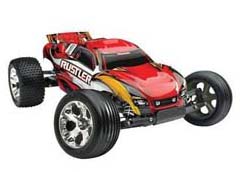 Stadium Truck – A stadium truck is an off-road truck usually powered by the rear 2 tires. Oversized suspension with long extending arms towards the tires are common. This chassis is popular for bashing. On road and off road capabilities are excellent. Stadium trucks are well suited to new hobbyists as well as the experienced.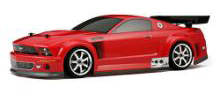 Touring Car – A touring car is an on road car capable of excellent handling and great on road speed. It best represents the cars we see on the road. Off road capabilities are poor. It can be shaft or belt driven 4 wheel drive. See below                                              for addition details of shaft vs belt.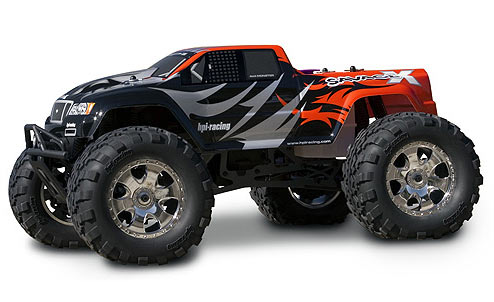 Monster Truck – Monster Trucks are large by nature. They are always 4 wheel shaft driven. They contain oversized suspension  making them excellent for offroad duties. Powerful motors or engines allow them to reach excellent on road speeds.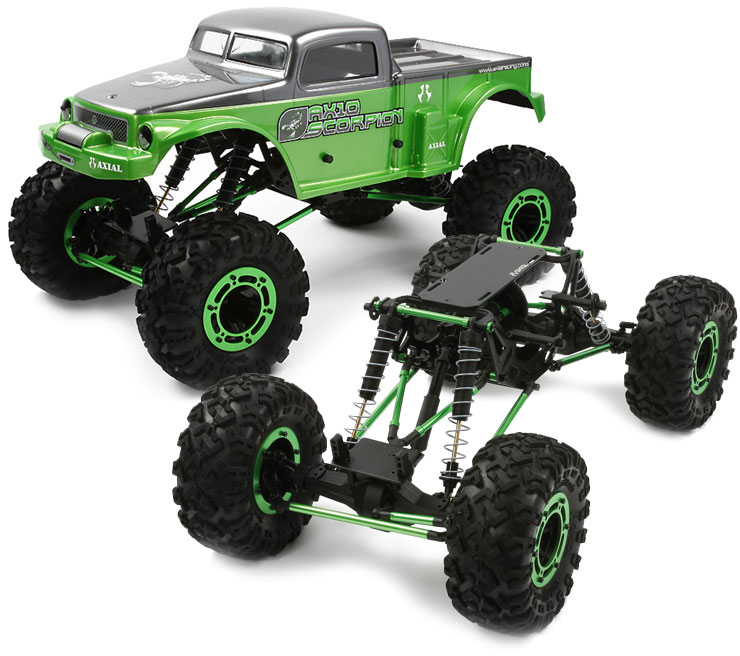 Rock Crawler – A Rock Crawlers best description is given by its name. Its main purpose is to move very slowly across extreme terrain. A Rock Crawler is designed in such a way to allow the chassis to twist for excellent off balance capabilities. No other vehicle type can travel in the places these Rock Crawlers
can.
Buggy – The buggy style vehicle is easily picked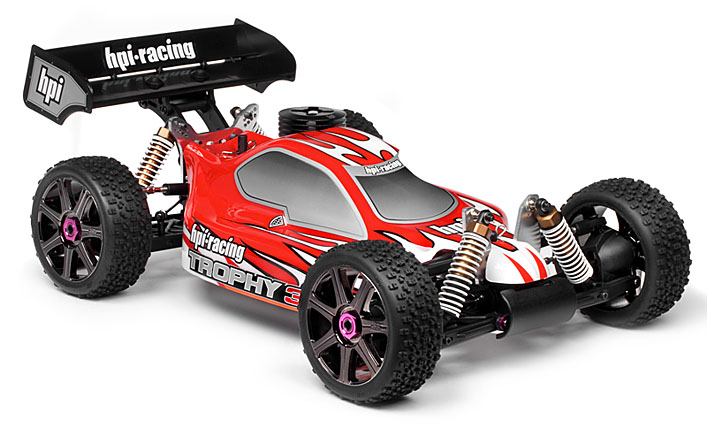 out with its oversized rear wing. The vehicles wheel usually do not extend to far wider than the body. Front and Rear Suspension is usually exposed with the body on. These buggies can travel at high speeds and have excellent on road and off road capabilities.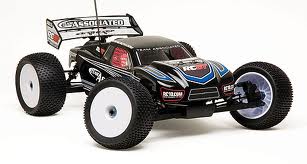 Truggy – A truggy is a combination of a Buggy and Stadium Truck. Truggies are usually 4 wheel drive with a center differential, stadium truck style body and buggy or monster truck wheels. A combination of stability from the long armed stadium truck and agility from the buggy create a purpose built chassis
Shaft Driven vs Belt Driven
This is more specific to the on road chassis types. Many manufactures offer either a belt driven vehicle or a shaft driven vehicle. The advantages for each will be listed.
Shaft Driven Advantages:
– Very Durable
– Difficult for foreign matter to enter the drive train
– More Scale Appearance
– Little Maintenance
– Excellent Power Handling
Shaft Drive Disadvantages:
– Torque Steer on high power setups causing chassis to twist
– Higher Drive Train Shock
– Louder Drivetrain
Belt Drive Advantages:
-The belt absorbs high shock in the drivetrain
– No lateral Torque Transfer – Reduces Torque Steer
– Often Smoother and Quieter
– Better Power Transfer
Belt Drive Disadvantages:
– Foreign matter may enter the Drivetrain
– Belts can stretch and break
– Higher Maintenance